Great for helping boost the immune system and supporting digestive health!
The newest Plum Ball EX is offered in a family size,
so you can share the health benefits with the whole family.
How is Umeken Plum Extract Made?
To produce Umeken Plum Ball EX, hard Japanese plums are harvested while still unripe and
compressed to extract the juice.
The liquid is boiled in high heat until it reaches the desired concentration level, and then boiled
in low heat for three days and three nights to achieve 50x more concentration.
The extract is then molded into our patented ball form to make it more convenient to enjoy.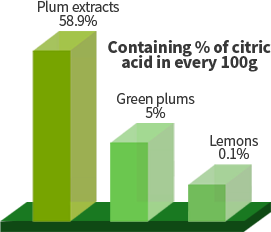 Japanese plum contains the highest concentration of citric acid of any fruit, even 58% more citric acid than lemons! Plum extract offers powerful antioxidant and anti-inflammatory effects, benefitting the immune, circulatory, and digestive systems.

180g (900 balls) 3 month supply. Take 10 balls daily.
* These statements have not been evaluated by the Food and Drug Administration.
This product is not intended to diagnose, treat, cure or prevent any disease.