Upgraded with 7 specialty ingredients!
New Bidens Pilosa

Umeken BP - Bidense Pilosa Extract Tablet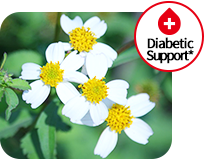 Bidens PilosaBidens pilosa is a special herb grown in the beautiful Okinawa Island, Japan. It is known for its anti-inflammation benefits and supports healthy blood sugar levels.*
New Bidens Pilosa
Bidens Pilosa combines the special herbal ingredient called Bidens Pilosa grown in the beautiful Okinawa Island, along with Gymnema leaf extract powder, Naringin (from citrus fruit), mango ginger rhizome extract powder, and white mulberry leaf extract powder.
You can easily take all these nutrients in a convenient tablet form. Take 3 tablets before each main meal to experience all the benefits of these ingredients.
7 Specialty Ingredients
Bidens Pilosa
White mulberry leaf
extract
Mango ginger
extract
Common bean
extract
Gymnema leaf
extract
Fermented soybean
extract
Naringin
(from citrus fruits)

Contents: 82.8g (Approx. 360 balls) / 2 month supply
Take 3 tablets before each main meal, 2 times a day.
* These statements have not been evaluated by the Food and Drug Administration.
This product is not intended to diagnose, treat, cure or prevent any disease.