Slim Night
Umeken's Slim Night Hyper is a unique night-time supplement containing natural amino acids and oligo peptides. These two special ingredient acts together to help your metabolism.*
When our body goes into 'sleep-mode' our metabolism naturally slows down.
Eucommia Leaf Powder and Cayenne Fruit Powder extracts that helps your metabolism.*
Contains vitamins A, C, D, E, B16, B12, Thiamin, Niacin, Folate, Protein, Pantothenic Acid, Chromium.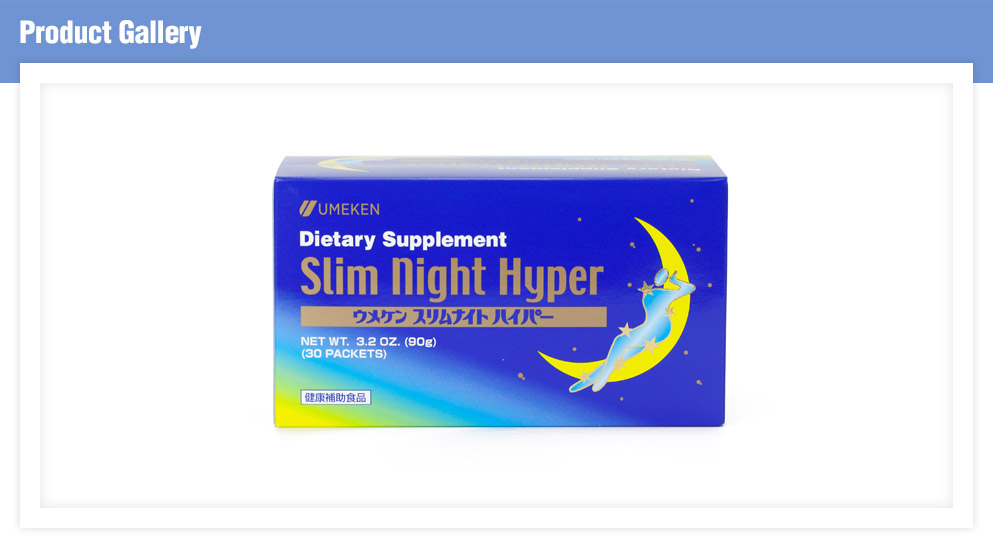 empty link






4

in*****
Product: Slim Night Hyper / 1 mth supply (30 packets)
My knee hurts
I bought and ate this product to lose weight. It was my first attempt and I ate it without high expectations. Unlike other diet products, I think I can lose weight with confidence without any abnormal symptoms such as heart palpitations. However, please do exercise and diet together. 07/07/2016 09:11

90g (30 packets) Take 1 packet once a day, about 30 minutes before sleeping.
* These statements have not been evaluated by the Food and Drug Administration.
This product is not intended to diagnose, treat, cure or prevent any disease.