VANTELIN Ankle Support
Sports Medicine Innovation
THERAPEUTIC TAPING THEORY is applied to create support braces that provide additional comfort, support, and joint protection.
❶ Figure-Eight Kinesiology
Tape Structure
The knitted, mesh figure-eight wraps around the ankle and foot to provide
extra joint support when running, walking and daily use.
❷ Arch support
Kinesiology
Tape Structure
As the knitted mesh figure-eight wraps the arch of the foot,
it support the foot's natural shape.
❸ Knitted Top and
Bottom Cuffs
Seamless top and bottom cuff design prevents slipping and bunching,
while maintaining the correct position of the figure-eight kinesiology
tape structure.
Unique Quality
1) Taping theory, a theory in which the range of motion is moderately (20~30%) restricted to aid in activities and movements in
everyday life, differs from sports taping. This ensures that the supporter effectively aids the movement of joints and
muscles while giving a proper feeling of tightness.
2) Using a breathable mesh design allows air to circulate, and the moisture wicking materials allow the skin
and the supporter to stay dry. This allows the comfort needed to be worn all day long. It can be worn underneath clothes without being bulky or visible due to its thin profile, making it the perfect supporter for daily wear.
3) Netting anchor method is devised at the top and bottom of the supporter, ensuring that the supporter cannot easily be loosened
or accidentally slipped off.
SIZE
NOTE : If two sizes apply, choose the larger one
M(shoe size : women → 8.5" ~ 9.5") (shoe size:women → 8" ~ 10")
L(shoe size : women → 9.5" ~ 10.5") (shoe size:women → 10" ~ 12")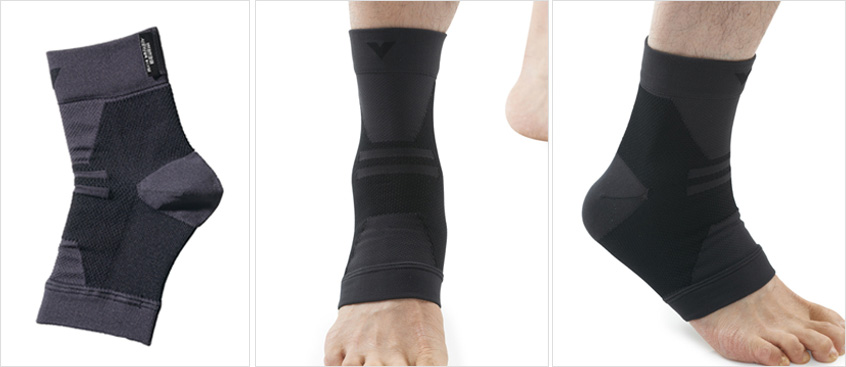 Warning
If you experience any of the following, discontinue use and consult your healthcare professional.
1. Sprain, fracture or ligament injury
2. Peripheral vascular disorder
3. Abnormality such as injury, blotchiness, rash at site where support is to be worn, or chronic dermatitis/allergy to chemical textile rubber.