Crystals of Japanese Ceramic Science
'Kyocera' Ceramic Knives!
Kyocera Ceramic kitchen knives are sized to meet the general use of the public.
Perfectly balanced and light, reduces fatigue during repetitive cutting tasks.
Durable and ultra-lightweight, it is the ideal knife for those who cook often.
The Benefits and Features of Kyocera Ceramic Kitchen Knives
Kyocera ceramic knives

are made with 1,400℃ of heat and 300T of pressure
Through Kyocera's ceramic processing technology, Kyocera knives are made with high quality materials to create strong, durable knives with minimal impurities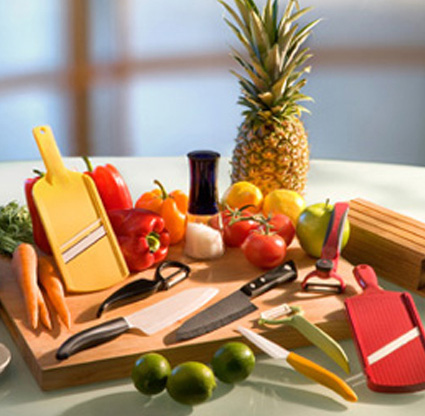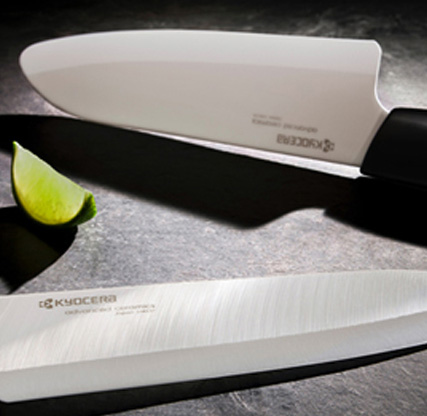 Lasts 10 times longer than iron knives!

Unrelenting Sharpness
Razor-sharp blade stays sharper longer. Kyocera advanced ceramic blades offer superior edge retention, holding their edge at least 10 times longer than other professional cutlery, including high carbon steel. It is made with Kyocera's proprietary advanced ceramic. This translates to a stronger, denser blade that holds an edge longer than other ceramic knives. Maintain as outlined in the manual to preserve sharpness.
Kyocera ceramic knives

do not rust
Ceramic knives do not dull easily, is not affected by acidic or alkaline foods, and does not rust. Safe to use when preparing baby food. Dishwasher safe. Safe to use disinfectant, detergent, and hot water.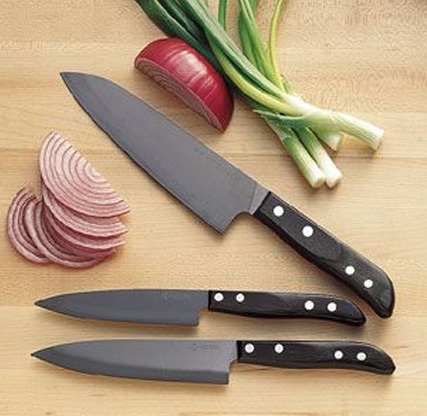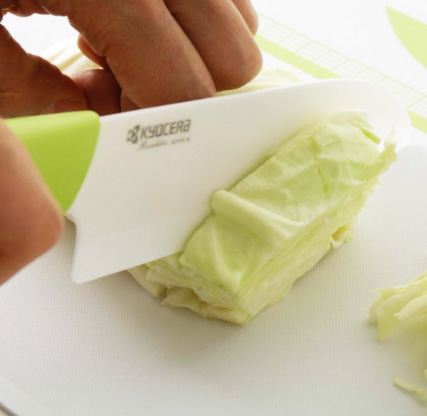 Made with high quality materials,

unparalleled purity
Ceramic knives are free of metallic ions, helping to preserve the nutrients and components of food. It will never brown foods, won't alter the taste, smell or appearance of food, and will never rust. It is perfect for preparing fish, fruits, and foods such as apples and onions
Exceptional resilience and


long lasting precision
Kyocera ceramic knives are resilient, have diamond-like sharpness, withstands wear, and remains ultra-sharp to give you long lasting precision. For everyday use on fruits, vegetables and boneless meats, use these handy knives for: chopping, slicing, dicing, mincing, julienning, cutting, trimming, seeding and peeling. Enjoy preparing a wide range of dishes with this versatile knife!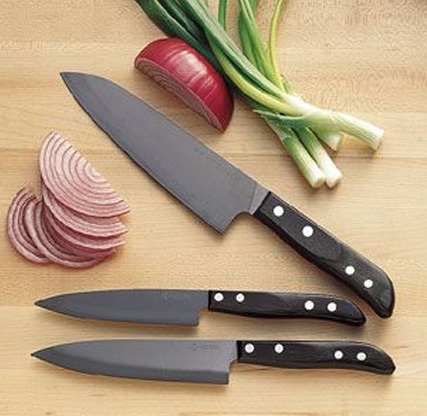 Kyocera Ceramic Knives Gallery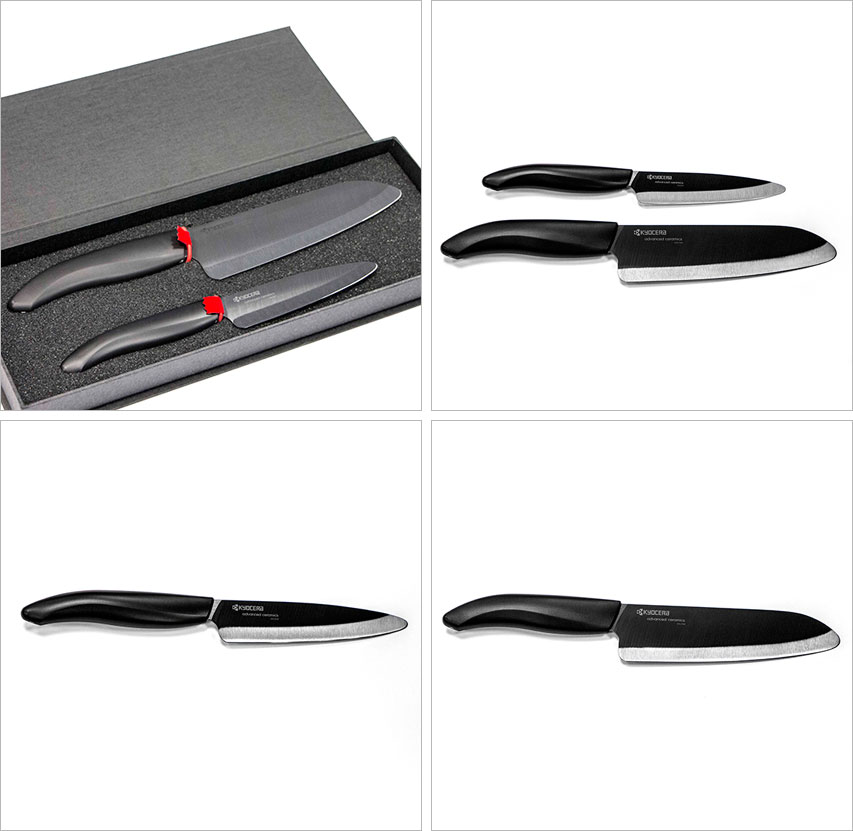 Precautions when using ceramic knives
1. The blade is extremely sharp. Store in a place that is not accessible by children.
2. Do not cut extremely hard foods (bone, frozen foods, etc.)
3. Do not place the handle directly over fire.
4. Must sharpen knife with approved ceramic knife sharpener.
5. The knife may break with a fall directly impacting the blade or if the knife is twisted while the tip of the blade is inserted into food.
6. Using a steel sponge may turn the knife black. To remove stubborn discolorations, wash the blade (avoiding the handle) in a mild solution of baking soda and water. When handwashing, wash the knife by itself under running water. Do not leave knife in sink. Always store knife in a block or tray to prevent accidents