Umeken Koso Ball EX contains 108 different natural ingredients.
After these ingredients go through a three-step fermentation
process, the Koso Ball EX is born!
Through Umeken, the true power of enzymes is realized.
What is enzyme?
Enzymes are used in various functions such as digestion and the breakdown of food. When enzymes become insufficient in our body, metabolic ability drops down to an extent where digestion and breakdown of food become difficult, causing the body to feel more tired and exhausted.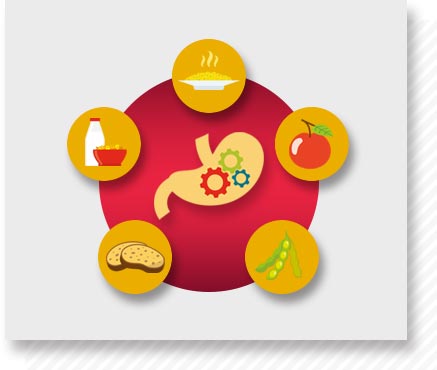 What can enzyme deficiency lead to?
Many of us use up more enzymes than we consume as we eat processed foods or foods containing no enzymes at all. When enzymes are low, breakdown and digestion of food slows down, making the food stay in the stomach much longer than usual. Continuation of this vicious cycle adversely affects our health.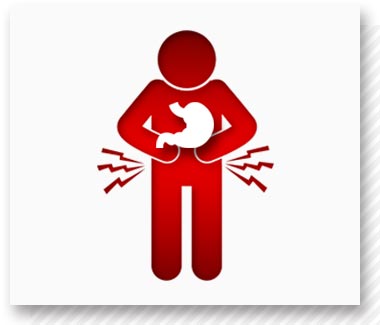 Why do we need more enzymes to be replenished as we age?
After our 20's, our body's digestive metabolism drops dramatically. According to a research study of Dr. Mayer of Chicago's Michael Reese Medical Center, amylase enzymes secreted in the saliva of seniors in their 70's are found to be 30x less than those of men in their 20's. The number of antioxidant, digestive, and metabolic enzymes are found to decline drastically as we age.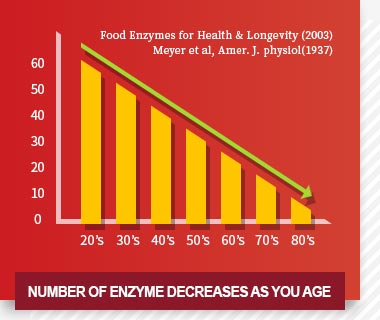 What is Umeken Koso Ball EX?
As the foremost experts in Japan's fermentation science, Umeken produces enzyme supplements from vegetables, herbs, and fruits that are produced in some of the cleanest Brazilian forests as recognized by World Heritage Site. After a three-step fermentation process using 1dH pure soft water, the complex mixture of 108 of the finest ingredients available is extracted into Umeken's very own enzyme supplement, capturing the very essence of vitality strength in one small pill.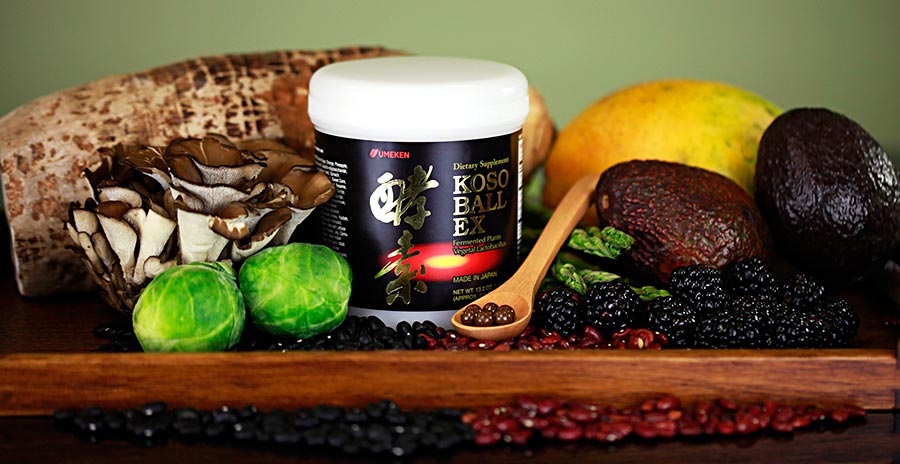 Umeken Koso Ball EX, what makes it special?
Umeken Koso Ball EX contains 108 different natural ingredients that are grown in pristine conditions, and it is made through a three-step fermenting process using 1dH pure soft water.
Umeken Koso Ball EX became one of Umeken's best sellers as more and more people experienced its efficacy and has helped further establish the reputation of quality that comes with the Umeken brand.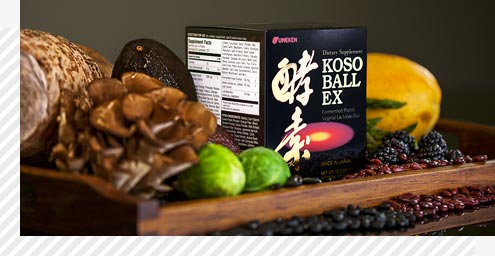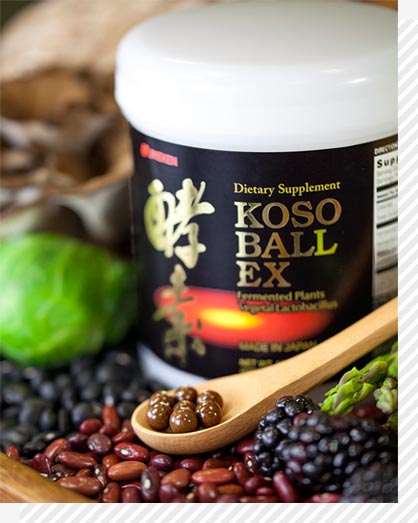 Umeken Koso Ball contains 108 different natural
ingredients that contain many essential nutrients.

Cabbage

Carrot

Mung Bean
Sprouts

Napa Cabbage

Spinach

Broccoli

Sweet Potato

Lettuce

Daikon Radish

Tomato

Lemon

Yuzu

Taro

Bok Choy

Turnip

Acerola

Avocado

Winter Squash

Zucchini

Bell Pepper

Collard

Bitter Melon

Cauliflower

Eggplant

Onion

Welsh Onion

Mustard
Spinach

Cassava

Bean Sprouts

Pumpkin

Red-leaf
Lettuce

Asparagus

Chinese
Chives

Cucumber

Garlic

Parsley

Jilo

Celery

Yam

Brussels
sprouts

Guava

Orange

Pineapple

Banana

Apple

Papaya

Mango

Kiwi

Melon

Pear

Watermelon

Persimmon

Blueberry

Carambola

Fig

White Mulberry

Camu Camu

Blackberry

Kumquat

Guarana

Burdock

Sacred Lotus

Ginger

Mugwort

Honey

Wakame

Chicory

Kombu

Rosemary

West Indian
Lemongrass

Baccharis
Trimera

Catuaba

Horsetail

Chapeau
De Couro

Mate

Stevia

Pau D'arco

Pedra Hume

Guesito

Spanish
Needles

Cat's Claw

Gynostemma

Clove

Nori

Cow's Foot

Rice

Barley

Jalo Bean

Oat

Pea

Roxinho Bean

Millet

Sesame

Soybean

Adzuki Bean

Adzuki Bean

Corn

Job's Tears

Lentil

Rye

Brazil Nut

Sweet Corn

Chickpea

Saccharomyces
cerevisiae

Cashew Nut

Enoki
Mushroom

Maitake
Mushroom

Bottom
Mushroom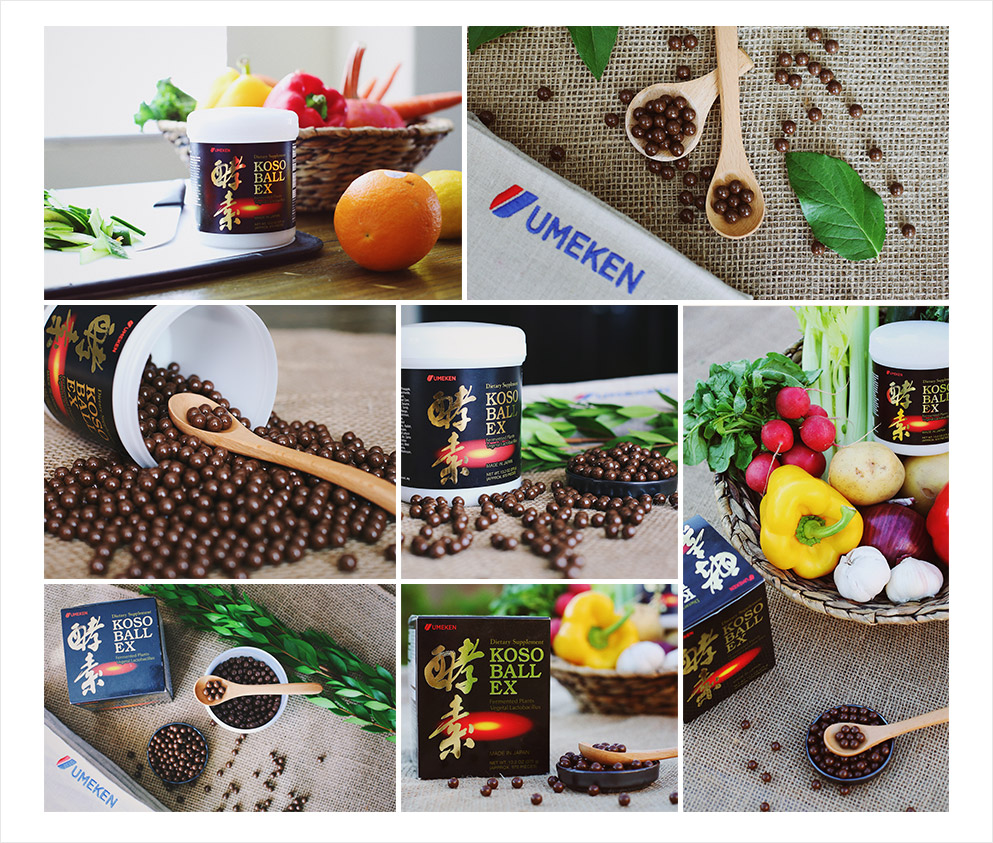 empty link






5

Ki*****
Product: Koso Ball EX - Enzyme / 4 mth supply (970 balls)
One day, about 3 years ago, my husband bought a bunch of Umeken products. We brought a health journal such as plum extract, jaecheop extract, fermented black garlic extract `Man`s essence`, etc. My husband said that he had only bought Umeken trusting the words of his friends that it was a good health product even if he trusted and ate it. I saw the health journal my husband received at that time and thought that I needed Umeken enzyme pills. I was always tired after eating, so I would lie down on the sofa. However, after purchasing Umeken Enzyme Pills and starting to eat them, the tiredness disappeared after some time. Another strange thing is that the allergy to kohlrabi, which has been tormenting me for 45 years, is gone. I have noticed that my body has improved. My daughter was similar to me and had an operation 10 years ago because of a nose allergy, but it came back and she suffered from it for several years. I advised them to try Umeken Enzyme Pill diligently, and as a result of taking it hard, my daughter now has no nasal allergy symptoms. Umeken Enzyme Ring, thank you very much. 01/20/2014 00:15





5

Product: Koso Ball EX - Enzyme / 4 mth supply (970 balls)
After menopause symptoms, my mouth frequently breaks down, blisters the size of a navel all over the mouth and under the tongue, burning, itching, and sore mouth, so I couldn`t even eat rice. I thought I was lacking in vitamins, so I tried taking it, but to no avail. But one day, an acquaintance told me that a lack of enzymes in the body sometimes causes gum disease. He gave me a book in the Umeken Health Journal and read it. However, most of the symptoms that appeared to me were. I talked to a counselor for about an hour to purchase an enzyme pill that is perfect for the symptoms that appear after menopause. I was a little hesitant because it was my first time trying this product, but I bought it with the intention of trusting Umeken products.
After taking it for a week, there was no effect, but after about 2 weeks, when I woke up in the morning, I felt refreshed and my digestion seemed to be going well. Originally, I had a weak stomach, so I always had erosion, but the frequent bloating symptoms have also decreased. After taking it for almost a month, the most important symptoms of burning in the mouth and millet-sized blisters have miraculously disappeared. It was only then that I was convinced that this product called Enzyme Ring is really good. 01/13/2014 03:56





5

Product: Koso Ball EX - Enzyme / 4 mth supply (970 balls)
It`s been about 3 years since I haven`t eaten kimchi, the only food of Koreans because I have a bad stomach. The difficult thing is that there are many spicy foods in restaurants, but it was difficult not to eat them. However, when I heard that enzymes boost immunity, cure various chronic diseases, and help digestion, I didn`t believe it at first, but I started eating it as if I was taking a herbal medicine. It`s been 3 months since I started taking enzyme pills, and my stomach has improved a lot, so I can eat spicy food little by little and the fatigue is gone. 01/10/2014 07:16





5

Jo*****
Product: Koso Ball EX - Enzyme / 4 mth supply (970 balls)
I suffered from eczema and dry skin from a very young age, but my skin felt different after I started taking Koso Balls. I also don't suffer from frequent colds, and truly feel that my immune system got a boost after taking Koso Balls. 01/09/2014 04:15





5

Product: Koso Ball EX - Enzyme / 4 mth supply (970 balls)
About 2 weeks after I started taking Enzyme Hwan, I noticed sweat spots all over my body, but I knew it was a positive reaction. After consulting with Mr. Jong Kim, I continued to eat, but now I feel different when I wake up in the morning. In the past, my eyes felt blurry and sagging, but after taking the enzyme pill, my head is clear and there is no pain, which is great. 12/25/2013 16:46

370g (Approx. 970 balls) + 130g (Approx. 340 balls) / about 5.5 mth supply.
Take 8 balls anytime during the day.
* These statements have not been evaluated by the Food and Drug Administration.
This product is not intended to diagnose, treat, cure or prevent any disease.