Umeken Koso Ball EX contains 108 different natural ingredients.
After these ingredients go through a three-step fermentation
process, the Koso Ball EX is born!
Through Umeken, the true power of enzymes is realized.
What is enzyme?
Enzymes are used in various functions such as digestion and the breakdown of food. When enzymes become insufficient in our body, metabolic ability drops down to an extent where digestion and breakdown of food become difficult, causing the body to feel more tired and exhausted.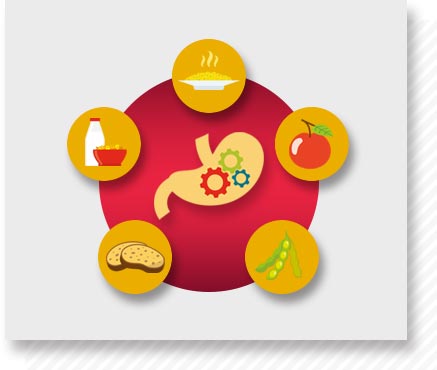 What can enzyme deficiency lead to?
Many of us use up more enzymes than we consume as we eat processed foods or foods containing no enzymes at all. When enzymes are low, breakdown and digestion of food slows down, making the food stay in the stomach much longer than usual. Continuation of this vicious cycle adversely affects our health.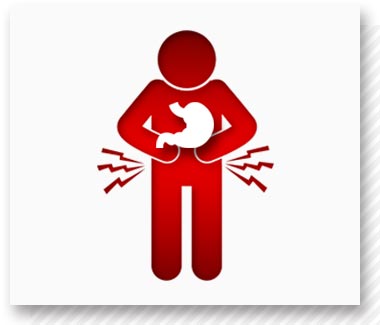 Why do we need more enzymes to be replenished as we age?
After our 20's, our body's digestive metabolism drops dramatically. According to a research study of Dr. Mayer of Chicago's Michael Reese Medical Center, amylase enzymes secreted in the saliva of seniors in their 70's are found to be 30x less than those of men in their 20's. The number of antioxidant, digestive, and metabolic enzymes are found to decline drastically as we age.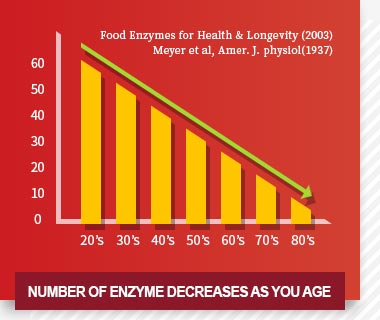 What is Umeken Koso Ball EX?
As the foremost experts in Japan's fermentation science, Umeken produces enzyme supplements from vegetables, herbs, and fruits that are produced in some of the cleanest Brazilian forests as recognized by World Heritage Site. After a three-step fermentation process using 1dH pure soft water, the complex mixture of 108 of the finest ingredients available is extracted into Umeken's very own enzyme supplement, capturing the very essence of vitality strength in one small pill.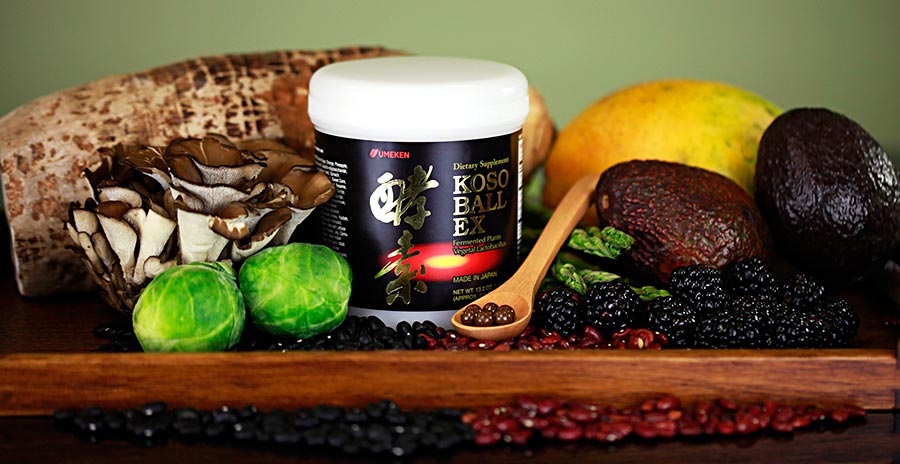 Umeken Koso Ball EX, what makes it special?
Umeken Koso Ball EX contains 108 different natural ingredients that are grown in pristine conditions, and it is made through a three-step fermenting process using 1dH pure soft water.
Umeken Koso Ball EX became one of Umeken's best sellers as more and more people experienced its efficacy and has helped further establish the reputation of quality that comes with the Umeken brand.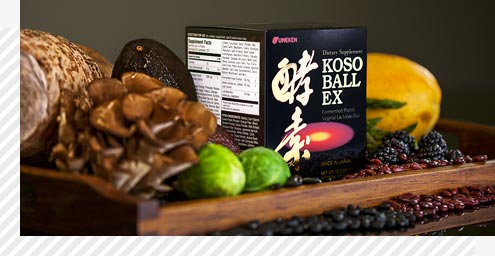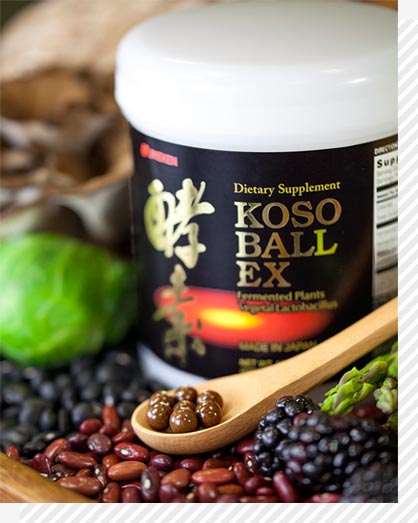 Umeken Koso Ball contains 108 different natural
ingredients that contain many essential nutrients.

Cabbage

Carrot

Mung Bean
Sprouts

Napa Cabbage

Spinach

Broccoli

Sweet Potato

Lettuce

Daikon Radish

Tomato

Lemon

Yuzu

Taro

Bok Choy

Turnip

Acerola

Avocado

Winter Squash

Zucchini

Bell Pepper

Collard

Bitter Melon

Cauliflower

Eggplant

Onion

Welsh Onion

Mustard
Spinach

Cassava

Bean Sprouts

Pumpkin

Red-leaf
Lettuce

Asparagus

Chinese
Chives

Cucumber

Garlic

Parsley

Jilo

Celery

Yam

Brussels
sprouts

Guava

Orange

Pineapple

Banana

Apple

Papaya

Mango

Kiwi

Melon

Pear

Watermelon

Persimmon

Blueberry

Carambola

Fig

White Mulberry

Camu Camu

Blackberry

Kumquat

Guarana

Burdock

Sacred Lotus

Ginger

Mugwort

Honey

Wakame

Chicory

Kombu

Rosemary

West Indian
Lemongrass

Baccharis
Trimera

Catuaba

Horsetail

Chapeau
De Couro

Mate

Stevia

Pau D'arco

Pedra Hume

Guesito

Spanish
Needles

Cat's Claw

Gynostemma

Clove

Nori

Cow's Foot

Rice

Barley

Jalo Bean

Oat

Pea

Roxinho Bean

Millet

Sesame

Soybean

Adzuki Bean

Adzuki Bean

Corn

Job's Tears

Lentil

Rye

Brazil Nut

Sweet Corn

Chickpea

Saccharomyces
cerevisiae

Cashew Nut

Enoki
Mushroom

Maitake
Mushroom

Bottom
Mushroom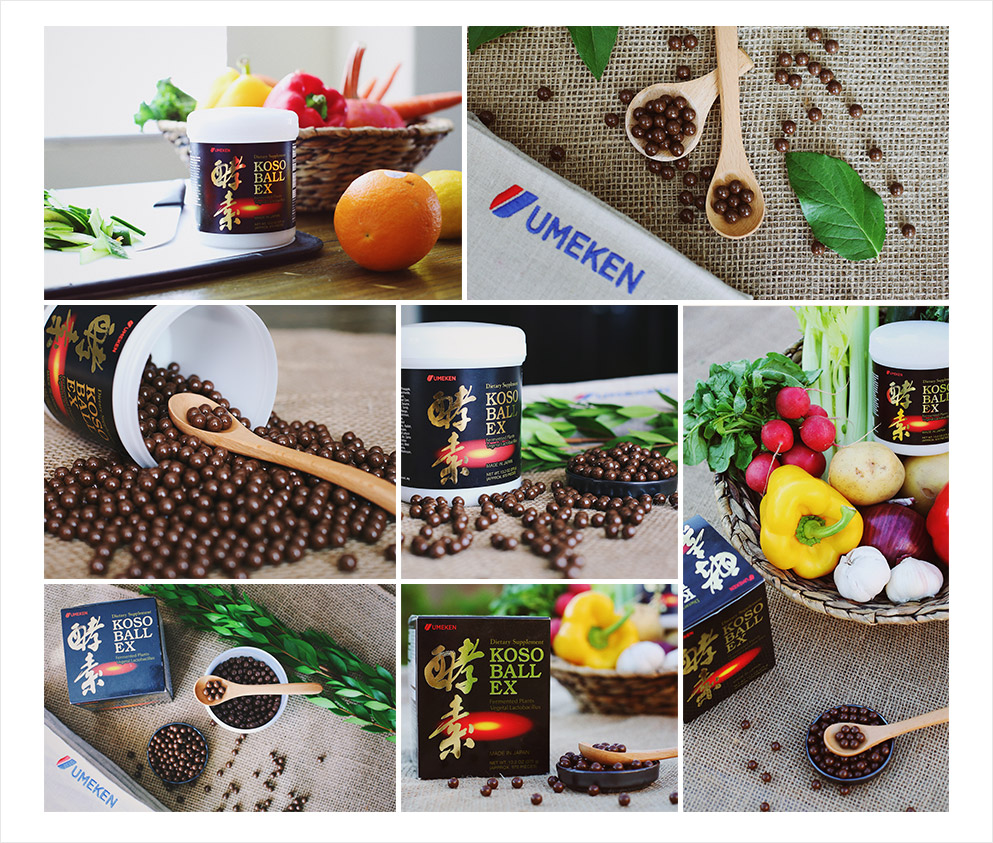 empty link






5

Ku*****
Product: Koso Ball EX - Enzyme / 4 mth supply (970 balls)
At first, I started taking it for diabetes, and now I can hardly leave out Umeken health foods in my daily life. Also, they say that after taking the enzyme ring product, my body feels lighter and my skin looks better than before. People I haven`t seen in a long time sometimes ask me why I look so young. These days, walking is also very light and refreshing. 04/19/2014 01:23





5

Ju*****
Product: Koso Ball EX - Enzyme / 4 mth supply (970 balls)
Studying herbal medicine gave me a lot of stress, which led to constipation issues, headaches, and hot flashes. I started to look for a health supplement and found Koso Balls. I used to take vitamins but I wanted to test enzymes to see what effect they would have on my body. I felt different each day as I took Koso Balls; I felt better, my body felt lighter, and I had more energy. Now I take 8 Koso Balls daily. 04/15/2014 06:56





5

Ju*****
Product: Koso Ball EX - Enzyme / 4 mth supply (970 balls)
When I started studying oriental medicine, I had a headache from stress and constipation, and my face became hot with menopausal symptoms. So, while I was looking for health food, I realized the importance of enzymes and purchased enzyme rings. Before that, I only took vitamins, but I wanted to feel that the role of enzymes is more important to the body. After taking it, every day changed. Not only my mood but also my body became lighter. As I spend every day energetically, I have developed an affinity for Enzyme Ring, so I take about 8 a day. 04/15/2014 06:56





5

Ok*****
Product: Koso Ball EX - Enzyme / 4 mth supply (970 balls)
After entering menopause, I often have mouth ulcers, and blisters the size of millet grains grow all over my mouth and even to the tip of my tongue. I felt a burning needle-like pain, and I couldn`t even eat because of the pain in my mouth. I thought it might be due to lack of vitamins, so I started supplementing with vitamins, but it didn`t work. Occasionally I heard from a friend that if there is a lack of enzymes in the body, gum disease can also develop, and lent me a Umeken health magazine. I started to read with a skepticism, only to find that the symptoms I was experiencing were described in the book. I had an hour-long consultation with a counselor in order to purchase enzyme pills suitable for post-menopausal consumption. After all, it was the first time I tried the product, so I was a little hesitant, but in the end, I was in the mood to try it out, and I decided to trust Umeken`s one-time mood and bought the enzyme pill. Taking it for 1 week has almost no effect. However, after taking it for 2 weeks, when I wake up in the morning, I feel very refreshed and my digestive function has greatly improved. Originally, my stomach function was relatively weak, and I often hiccups. After taking Umeken, the number of hiccups gradually decreased. The most important thing is that after 1 month of taking it, the burning pain in my mouth, the blisters the size of millet grains are gone. This is amazing. At that moment I was convinced: "This enzyme pill is really a good product!" First of all, it has a significant effect on the symptoms of menopause (the disease in my mouth and the symptoms of menopause are all cured.) Second, the Umeken brand means the manufacturing process, And all other aspects are trustworthy. Umeken Enzyme Pills are really good products that you can trust. I appreciate.
03/24/2014 02:27





5

Ag*****
Product: Koso Ball EX - Enzyme / 4 mth supply (970 balls)
My daughter always ate out and I thought perhaps that was a contributing factor to her constipation. After about 2-3 days of taking Koso Balls, however, she was happy to have been relieved from constipation. She felt that all the junk in her stomach was flushed out. I also felt that my bowel movements were regular and even my bowel colors seemed healthy after taking Koso Balls. My husband regularly takes them and loves them too. Now I realize how enzymes are to our body important. 03/11/2014 09:05





5

Ag*****
Product: Koso Ball EX - Enzyme / 4 mth supply (970 balls)
My daughter always ate outside, so she was very constipated and frowned. However, after taking the enzyme pill, 2-3 days after taking it, it felt like everything that was inside came out. I was also very comfortable with the color of my stool and how I feel after having a bowel movement. I always have a heavy head when I wake up in the morning, how did I spend the day, but these days I feel my head is getting cooler. My husband also takes it two or three times a day and says it is better than any other medicine. Through the Hyoson Hwan booklet from Umeken, I learned how important enzymes are in our body. 03/11/2014 09:05





5

Re*****
Product: Koso Ball EX - Enzyme / 4 mth supply (970 balls)
I've always had stomach problems and never had a good appetite, which seemed to contribute to my lack of energy. One day my friend gave me a box of Shouka Koso and told me to eat it with my meals because it helps with digestion. I was never a fan of health supplements so I put the box aside and forgot about it until my friend asked how I liked it. I finally decided to give it a try and sprinkled a packet of Shouka Koso over my rice. I was surprised to see how easy it was for me to finish the bowl of rice, and I didn't have indigestion or feel bloated afterwards. I even felt like I had more energy after my meal. Now I always keep Shouka Koso in my purse and enjoy my meals without suffering from stomach problems. I started to trust Umeken health supplements after I experienced these changes. I also started taking Umeken's Koso Balls, which are recommended to help balance your body and boost your immune system. I highly recommend Koso products for those who suffer from indigestion and stomach problems. 03/02/2014 06:09





5

Re*****
Product: Koso Ball EX - Enzyme / 4 mth supply (970 balls)
I always had no appetite and my stomach was bloated, so I always ate rice in small chunks, so I got a cup of tea from people around me. So I always thought it was because I had no energy, but one day my friend gave me Umeken digestive enzyme as a gift saying that if I sprinkle it on rice, it will help digestion, indigestion, and improve appetite. At first, I wasn`t very reluctant, and I don`t really trust health food, so I just put it aside, but my friend asked about the effect, and I was also sincere, so I sprinkled it on rice at dinner and ate it as my friend said. Before, it was very difficult to eat a bowl of rice, but I am able to eat anything from a bowl of rice as well as other foods. Now that I eat up to 4 meals a day, my stomach is not full, so I am full of energy. I always put digestive enzymes in my bag, take them out at dinners or gatherings, sprinkle them over rice, and eat them together with other foods, so I can enjoy food in a really comfortable way. I always looked at health food companies and didn`t pay much attention to them, so I didn`t trust them. So, I also bought enzyme pills from Umeken that are said to boost energy and balance the body. I strongly recommend it to people who, like me, have difficulty digesting even a small amount and are bloated. 03/02/2014 06:09





5

Su*****
Product: Koso Ball EX - Enzyme / 4 mth supply (970 balls)
I received treatments for cancer in 1993. In 2003, my cancer showed up again in my shoulder area and I had to receive radiation therapy in my shoulder and chest area. I had to go through several chemotherapy treatments to prevent the cancer cells from spreading to different areas. I tried to think positively but in 2010, my health deteriorated drastically as I developed a chronic cough and had trouble breathing. Apparently the cancer cells spread to my chest and lung area as well. I was physically very weak and was willing to try anything that would help me improve my health. My friend Sung Hee Yim read an article in the Health Journal about the benefits of Beta Glucan. I was desperate and decided to try Beta Glucan and Koso Balls. After taking these supplements (3 boxes now) my most recent exam showed that the cancer had not spread and that the existing cancer cells were not growing. My doctor was concerned about constipation with the therapies, but the Koso Balls helped me with digestion and constipation issues. I also had diabetes but after taking Koso Balls, my blood sugar level stayed normal and I don't have to administer my insulin shots as often. I feel that I'm able to go on physically with all my radiation and chemotherapy with the help of Beta Glucan. I wish everyone good health. 03/01/2014 07:08





5

Ok*****
Product: Koso Ball EX - Enzyme / 4 mth supply (970 balls)
I was diagnosed with diabetes 14 years ago and I tried to balance out my blood sugar level with regular exercise and watching what I eat. However, this was a big challenge because of my long work hours. Also, about a year ago, my ankles and calves started to swell. I tried herbal medicines, acupuncture, and different red ginseng products. I would feel better after these treatments but it only lasted for a moment. I started taking Umeken Koso Balls and to my surprise, both my swelling and my blood sugar level slowly went down. 02/25/2014 06:52





5

Ju*****
Product: Koso Ball EX - Enzyme / 4 mth supply (970 balls)
Not only my knees, but also my back and back were always uncomfortable. So, since last June, I have been taking enzyme pills introduced by Sammie, and my body is full of vitality and I am free from chronic pain. Because the body has immunity, it seems that my body is changing into a constitution that is resistant to disease. The words of my friends that I am getting younger come true. 02/21/2014 11:56





5

Product: Koso Ball EX - Enzyme / 4 mth supply (970 balls)
I was always tired and lethargic, so I couldn`t do anything except work, depend on eating out for meals, and couldn`t even do housework. No matter how good the medicine was, it didn`t work. When I was tired, I suffered from itchy throat, sneezing, tears and migraines. However, as a result of taking the enzyme ring continuously, I saw a great effect. As I eat almost all of the enzyme pills for the third time, I feel lighter, and the lethargy and tiredness disappear. Cooking is fun these days. And the sore throat, sneezing, tearing, and migraine headaches from exhaustion are incredibly gone. 02/09/2014 06:23





5

Gi*****
Product: Koso Ball EX - Enzyme / 4 mth supply (970 balls)
As I was busy raising a family in my 30's, I always thought of myself as healthy. When I entered my 40's, however, I started feeling a little pain here and there. I remember reaching for something in my fridge and felt a sharp nerve pain in my arm. That was 15 years ago. Since then, I've had aches in my neck, back, and just about everywhere. I went for a checkup and my doctor said I had "frozen shoulders." I was able to raise my arms only halfway up, I could not hold my purse very well, but the hardest part was reaching over to get my seat belt when I got in the car. My condition got worse to the point where any physical contact with my arms would leave me in pain. Then I found Umeken Koso Balls. After about two months of taking Koso Balls, the aches and pains I had to deal with for so long started to go away. It was unbelievable. I take 8 Koso Balls daily. After about a year of taking them, my body felt completely different. My fatigue in the evenings and my body's difficulty with getting out of bed in the morning went away. 01/24/2014 21:16





5

Gi*****
Product: Koso Ball EX - Enzyme / 4 mth supply (970 balls)
In my 30s, I was busy raising children, and since I was young, I always thought that I was healthy. In my early 40s, when I touched food in the refrigerator, I felt a tingling sensation and pain that hit my arm nerves. I was in pain here and there for almost 15 years, like getting my clothes wet in the mist and rain. My neck was heavy and my back hurt all the time. I went to the hospital and they told me it was a fifty dog. The right and left arms were only half raised. The most difficult thing about tying the bag properly was that my arm didn`t turn backwards when I sat in the driver`s seat and had to fasten the seat belt. Later, the pain was so severe that if someone passed by and hit my arm, I had to hold on for a while to calm the pain. Then I met Enzyme-Hwan. I couldn`t even feel it myself for about two months, but the pain that was so painful started to be freed from my body. The arms that could not be raised like a lie, the heavy back of the back, and the soles of the feet where I had to feel pain for a long time to take the first step are amazingly better now. I take 8 enzyme pills every day without missing a day. It was after a year that I started taking enzyme pills and seeing changes in my body. I was tired at night and didn`t want to get up in the morning, but one day the tiredness disappeared. 01/24/2014 21:16





5

Ki*****
Product: Koso Ball EX - Enzyme / 4 mth supply (970 balls)
About three years ago, my husband brought home some Umeken products, including Plum Balls, Corbicula Extract Balls, Fermented Black Garlic Balls, and a Health Journal. He said his friend recommended Umeken because it is a trustworthy health supplement company. After reading through the issue of the Health Journal I wanted to try the Koso Balls for myself. I always felt lethargic after a meal but once I started taking the Koso Balls, I started feeling less tired after my meals. Another thing that impressed me was that the sinus allergy that I had for the past 45 years was gone. My overall health had improved. My daughter also suffered from sinus allergies and even needed surgery to relieve this. However, her allergies started bothering her again soon after and so I recommended Koso Balls to her as well. After regularly taking the supplements, her allergy symptoms went away too. I'm very thankful for Umeken Koso Balls. 01/20/2014 00:15

370g (Approx. 970 balls) + 130g (Approx. 340 balls) / about 5.5 mth supply.
Take 8 balls anytime during the day.
* These statements have not been evaluated by the Food and Drug Administration.
This product is not intended to diagnose, treat, cure or prevent any disease.