4 Month Supply of Fermented Enzyme Supplements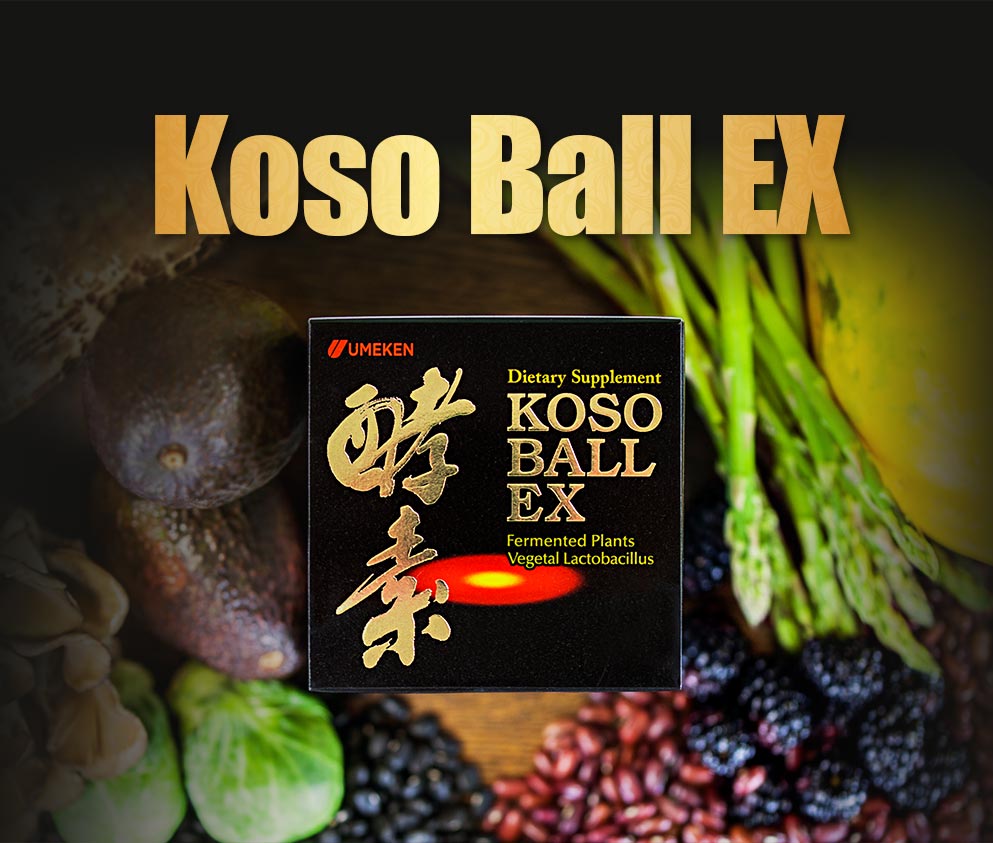 Umeken Koso Ball EX contains 108 different natural ingredients.
After these ingredients go through a three-step fermentation
process, the Koso Ball EX is born!
Through Umeken, the true power of enzymes is realized.
What is enzyme?
Enzymes are used in various functions such as digestion and the breakdown of food. When enzymes become insufficient in our body, metabolic ability drops down to an extent where digestion and breakdown of food become difficult, causing the body to feel more tired and exhausted.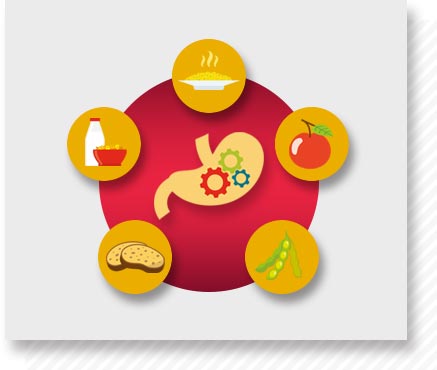 What can enzyme deficiency lead to?
Many of us use up more enzymes than we consume as we eat processed foods or foods containing no enzymes at all. When enzymes are low, breakdown and digestion of food slows down, making the food stay in the stomach much longer than usual. Continuation of this vicious cycle adversely affects our health.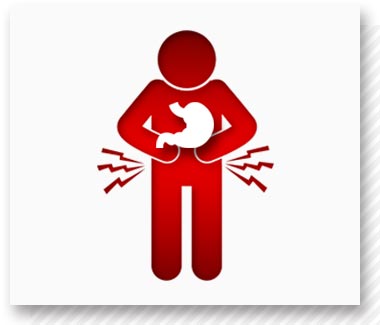 Why do we need more enzymes to be replenished as we age?
After our 20's, our body's digestive metabolism drops dramatically. According to a research study of Dr. Mayer of Chicago's Michael Reese Medical Center, amylase enzymes secreted in the saliva of seniors in their 70's are found to be 30x less than those of men in their 20's. The number of antioxidant, digestive, and metabolic enzymes are found to decline drastically as we age.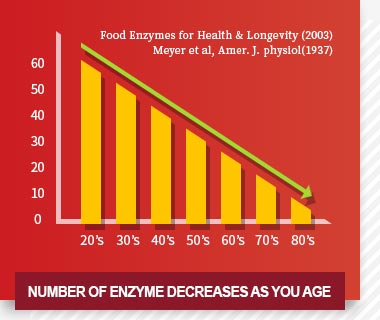 What is Umeken Koso Ball EX?
As the foremost experts in Japan's fermentation science, Umeken produces enzyme supplements from vegetables, herbs, and fruits that are produced in some of the cleanest Brazilian forests as recognized by World Heritage Site. After a three-step fermentation process using 1dH pure soft water, the complex mixture of 108 of the finest ingredients available is extracted into Umeken's very own enzyme supplement, capturing the very essence of vitality strength in one small pill.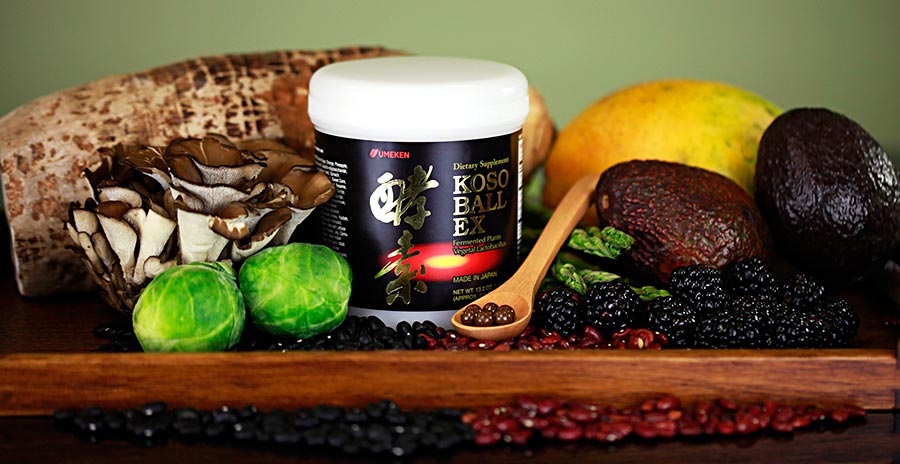 Umeken Koso Ball EX, what makes it special?
Umeken Koso Ball EX contains 108 different natural ingredients that are grown in pristine conditions, and it is made through a three-step fermenting process using 1dH pure soft water.
Umeken Koso Ball EX became one of Umeken's best sellers as more and more people experienced its efficacy and has helped further establish the reputation of quality that comes with the Umeken brand.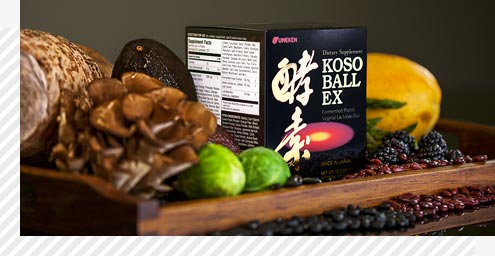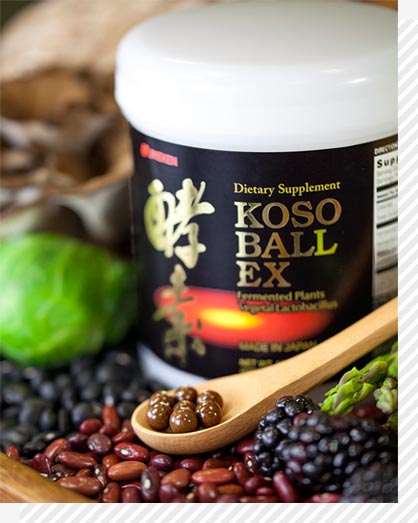 Umeken Koso Ball contains 108 different natural
ingredients that contain many essential nutrients.

Cabbage

Carrot

Mung Bean
Sprouts

Napa Cabbage

Spinach

Broccoli

Sweet Potato

Lettuce

Daikon Radish

Tomato

Lemon

Yuzu

Taro

Bok Choy

Turnip

Acerola

Avocado

Winter Squash

Zucchini

Bell Pepper

Collard

Bitter Melon

Cauliflower

Eggplant

Onion

Welsh Onion

Mustard
Spinach

Cassava

Bean Sprouts

Pumpkin

Red-leaf
Lettuce

Asparagus

Chinese
Chives

Cucumber

Garlic

Parsley

Jilo

Celery

Yam

Brussels
sprouts

Guava

Orange

Pineapple

Banana

Apple

Papaya

Mango

Kiwi

Melon

Pear

Watermelon

Persimmon

Blueberry

Carambola

Fig

White Mulberry

Camu Camu

Blackberry

Kumquat

Guarana

Burdock

Sacred Lotus

Ginger

Mugwort

Honey

Wakame

Chicory

Kombu

Rosemary

West Indian
Lemongrass

Baccharis
Trimera

Catuaba

Horsetail

Chapeau
De Couro

Mate

Stevia

Pau D'arco

Pedra Hume

Guesito

Spanish
Needles

Cat's Claw

Gynostemma

Clove

Nori

Cow's Foot

Rice

Barley

Jalo Bean

Oat

Pea

Roxinho Bean

Millet

Sesame

Soybean

Adzuki Bean

Adzuki Bean

Corn

Job's Tears

Lentil

Rye

Brazil Nut

Sweet Corn

Chickpea

Saccharomyces
cerevisiae

Cashew Nut

Enoki
Mushroom

Maitake
Mushroom

Bottom
Mushroom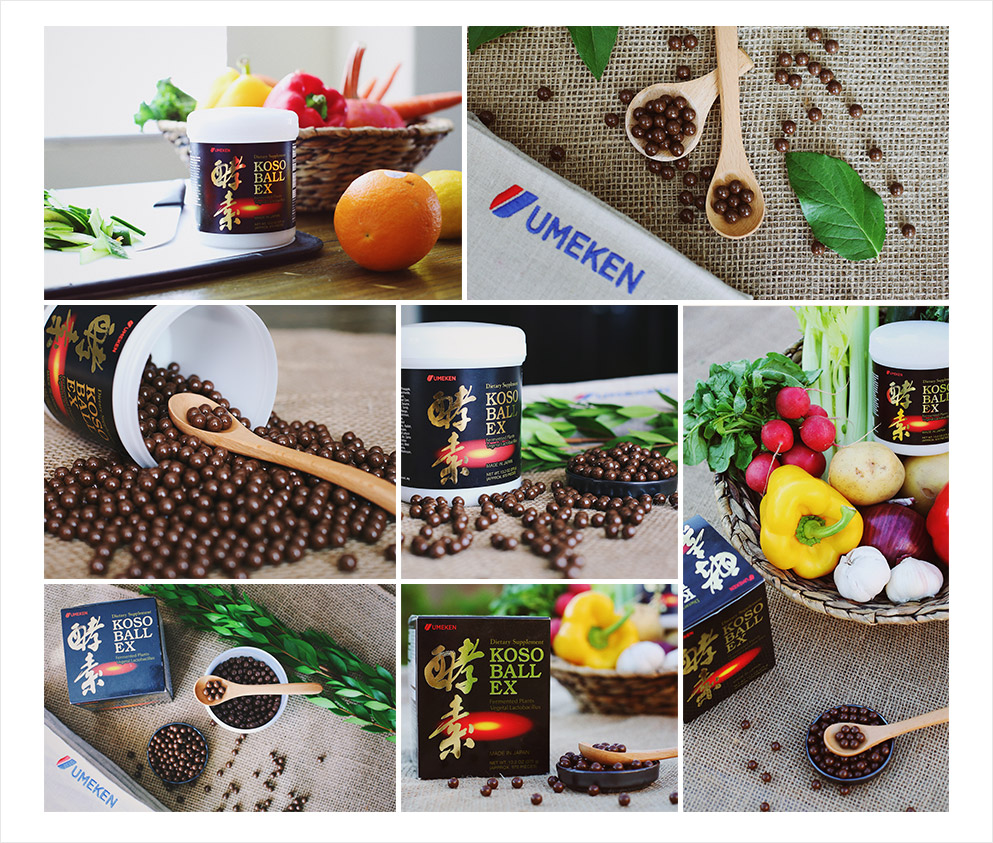 empty link






4

se*****
Product: Special Koso Ball EX - Enzyme / 40 day supply (340 balls)
Not bad 11/25/2017





5

Al*****
Product: Koso Ball EX - Enzyme / 4 mth supply (970 balls)
Has many digestive enzymes. My mom is 68 and it helps her digest better. 10/29/2017





5

ë*****
Product: Koso Ball EX - Enzyme / 4 mth supply (970 balls)
My husband and I were really tired of life lethargic due to chronic constipation and chronic fatigue.. After taking enzyme pills, I could feel a lighter body..
Taking care of the health of the whole family with Umeken.
It is good to meet reliable health food 04/05/2017 01:24





5

ka*****
Product: Koso Ball EX - Enzyme / 4 mth supply (970 balls)
helps me with digestion 12/27/2016 20:09





5

yo*****
Product: Koso Ball EX - Enzyme / 4 mth supply (970 balls)
It was recommended by an acquaintance living in LA, and I received it for the second time in Korea, so I have been eating it for over 4 months, and I think it suits me very well.
Because digestion is good, bowel movements are smoother and the body feels lighter, and there is a definite difference from when I did not eat. 07/01/2016 00:44





5

So*****
Product: Koso Ball EX - Enzyme / 4 mth supply (970 balls)
I liked the enzyme ring so much, so I gave it to my parents as a gift. Try it for a week and your mother will like it a lot. Dad doesn`t say anything.
Seeing my mother, I think I bought it well. I`ll try it later too. 05/19/2016 23:57





5

Pa*****
Product: Koso Ball EX - Enzyme / 4 mth supply (970 balls)
I tried Koso balls under the high recommendation of a sales lady at a Umeken store. I was interested in Koso balls because I have been working with my acupuncturist for over a year to improve my overall health and immune system; I feel much better and energetic after weekly visits but feel something was still missing. I was taking cordyceps for a few months under the acupuncturist's recommendation, but didn't feel much difference.

After using Koso balls for just 2 to 3 weeks, I felt an immediate difference in my body. My natural body temperature increased and I no longer felt cold or the need to wear a fleece. To my pleasant surprise, I noticed my short term memory and ability to concentrate at work are much better. I also notice the color of my urine is lighter, and less smell.

My wife was really skeptical about Koso balls; however after hearing of my success, it got her interested in trying. For her, she sees some visible difference in her waist line starting to slim down, and skin starting to tighten up more.

05/01/2016 20:27





5

Sh****
Product: Koso Ball EX - Enzyme / 4 mth supply (970 balls)
I'm enjoying all of Umeken products. Most especially the hexagon water. I don't notice a difference yet but it taste really crystal clean. 11/17/2015 14:13





5

MI**
Product: Koso Ball EX - Enzyme / 4 mth supply (970 balls)
I had an upset stomach after trying out hongkong milk tea + pineapple shortcake. took 10 balls of koso, it relieved my pain within 30 min. amazing! 10/15/2015 17:08





5

Ch*****
Product: Koso Ball EX - Enzyme / 4 mth supply (970 balls)
I have been taking blood pressure medicine for the past 17 years. If I was a little stressed, I could feel my blood pressure rising, which always concerned me. However, I didn't want to rely on a heavier dose of medicine either. I read an article in the Health Journal which stated that "if our body lacks enzymes, even the herbal medicine (bo-yak) would be useless." I thought maybe my body lacked enzymes so I ordered Koso Balls. After taking them, my blood pressure was under control. It was easier for me to get up in the morning, and the frequent flus that I had every winter were gone. I also take Umeken's L-Calcium and since then my knee pain went away. Now I am able to enjoy my morning walks. 06/25/2014 02:54





5

Ch*****
Product: Koso Ball EX - Enzyme / 4 mth supply (970 balls)
I suffer from hereditary high blood pressure. I have been taking medicine for 17 years. Although I insist on taking medicine for high blood pressure, my mood fluctuates a little and my blood pressure still rises. I am very distressed about this. I`m getting older, so I`ve been hesitant to take stronger blood pressure medicines for fear of putting a strain on my stomach. Taking medication can`t completely control blood pressure, and I often have high blood pressure, which is very annoying to me. It just so happened that the owner of the store where I worked 3 years ago gave me a health magazine. When I read the article "Insufficient enzymes in the body, it is useless to take tonics", I realized that I also lack enzymes, so I immediately bought enzyme pills. At that time, my knee joint was in unbearable pain, and every time I landed, my knee felt a knife-like pain. Each knee received 5 injections. After injecting both knees, the condition will improve, but if there is no cure, the disease will recur. The doctor said that if the condition continued to worsen, surgery was needed. After taking the enzyme pills, blood pressure dropped a lot. Every morning I wake up feeling light on my body. In the past, every winter, it was inevitable to catch a cold or two. Since taking the enzyme pills, I have never had a cold again. 06/25/2014 02:54





5

Ch*****
Product: Koso Ball EX - Enzyme / 4 mth supply (970 balls)
I have been taking blood pressure medication for 17 years because of my genetics, but even if I take blood pressure medication, my blood pressure rises if I pay attention. Even though I was older, I didn`t want to ask for a stronger medicine, and I was hesitant because it put a burden on my stomach. Even if I take the medicine, my blood pressure keeps rising, so I am struggling. 3 years ago, the owner of the store I worked at gave me a health journal, and when I read, "If you don't have enough enzymes in your body, taking supplements is no use." I also have enzymes. Realizing that it was not enough, I immediately ordered an enzyme ring. And because the joints in my knee were so bad, whenever I took a footstep, I felt pain as if my knee was being cut with a knife. The doctor said that even if you get 5 tropical injections per side, it`s fine for a while, but if it comes back and it gets worse, you have to have surgery. After taking the enzyme pill, I have never had a cold. And when I took Umeken Fermented L-Calcium, the pain in my knee disappeared from one day. Now, even if I walk for 30 minutes every morning, my body is light and I feel refreshed, and it is so good. 06/25/2014 02:54





5

DO*****
Product: Koso Ball EX - Enzyme / 4 mth supply (970 balls)
Jamie Yang listened to my symptoms and explained it in a gentle and coherent manner, confidently recommending enzyme conversion.
I was engrossed in my business, so there was a lot of work, and the cost of doing so was ruining my health. Fatigue was accumulated, and degenerative arthritis occurred in the joints of the fingers, and the body was heavy like cotton that has been soaked in water. There were days when it was really difficult to sustain my daily life. About 20 days after taking it, my body became lighter and my arthritis pain got better, which gave me courage and vitality in my life. Thanks to Umeken and Jamie Yang for trustworthy product management. 06/02/2014 23:02





5

Product: Koso Ball EX - Enzyme / 4 mth supply (970 balls)
I was treated for cancer in 1993. In 2003, it had metastasized to the shoulder area and received radiation therapy to the shoulder and chest area. Cancer that has recurred once metastasized to a different site every year, so the chemotherapy was changed almost every year. When one side is treated, it occurs on the other side. In the very difficult and difficult fight against cancer, always pray, work hard according to the doctor`s instructions, and positively organize your mind.
In 2010, I developed symptoms of a sharp deterioration in my health due to a very severe cough and shortness of breath. Cancer has metastasized between the chest and lungs, so it is very difficult, and my body is weak and weak, so I don`t even have the strength to stand up. While I was trying to purchase a health journal from Seonghee Lim, who works there, I wanted to try Beta Gurucan in the science part, not a miracle. I had a lot of conversations with Mr. Seong-hee Lim, and I purchased beta-glucan and enzyme ring without any doubt, out of a sincere heart that he helped me in detail in consideration of the patient`s position. From the moment I started using it, I could feel the power of anti-cancer effect with my whole body. I wanted to deliver it to those in need, hoping that it will be really interesting and with a grateful heart. I have been taking it for the 3rd time so far, and I was very happy with the doctor`s words that the cancer had not spread and had not grown as a result of X-ray on July 24, 2012. The doctor was worried that the anticancer drug I received itself caused constipation, but the enzyme pill is really good for digestion and seems to be the number one solution for constipation. Diabetes mellitus caused by cancer has been around for 18 years, but as a result of several tests on Umeken enzyme ring, diabetes is almost at a normal level, so insulin doesn`t fit very well. I would like to tell you that it is the help of beta-glucan that allows me to work hard during current chemotherapy. Everyone be healthy. 05/21/2014 09:40





5

Je*****
Product: Koso Ball EX - Enzyme / 4 mth supply (970 balls)
About two weeks after I started taking enzyme pills, my body improved to the extent that I thought I should buy another one, and my life became more energized. At first, I thought it was a bit expensive, but when I ate it, the idea of how refreshing and light it is. My brother-in-law likes it so much, and he says he will have to buy it himself next time. 05/17/2014 08:48

370g (Approx. 970 balls) about 4 month supply.
* These statements have not been evaluated by the Food and Drug Administration.
This product is not intended to diagnose, treat, cure or prevent any disease.