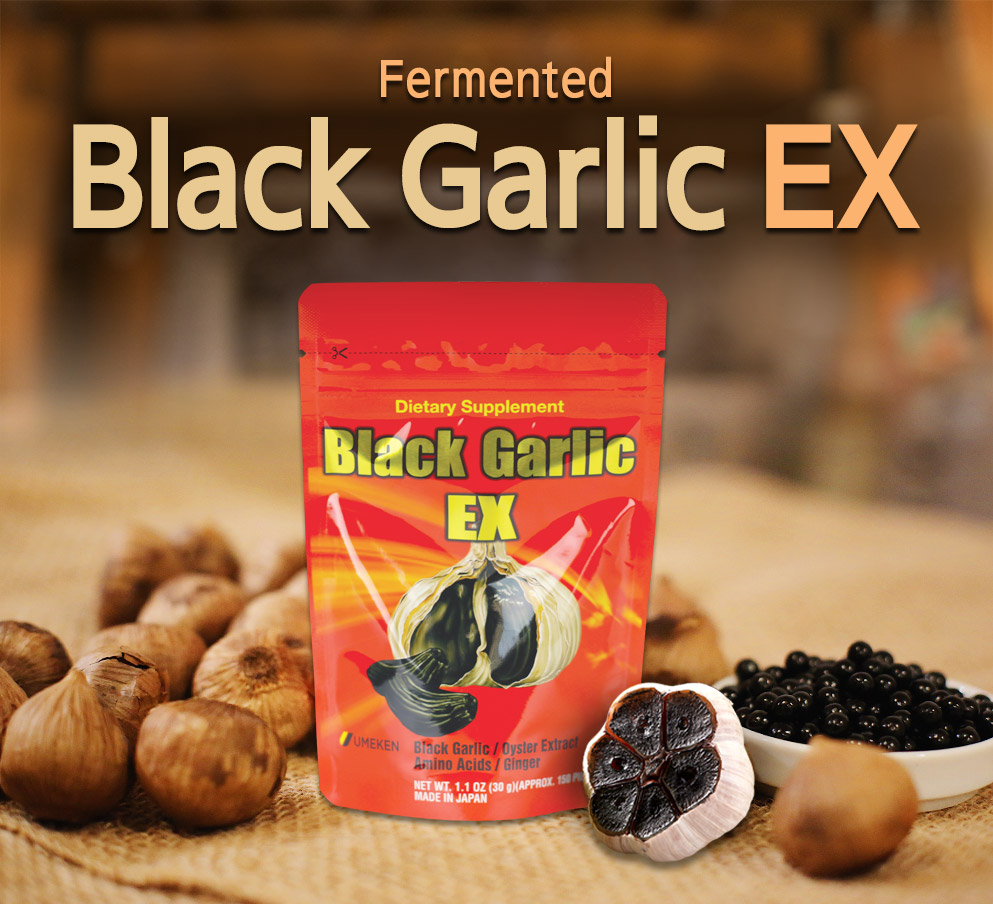 Fermented Black Garlic EX
Black Garlic EX is a premium health
supplement made up of fermented garlic
using Umeken's special fermentation process.
This process enhances the garlic's active
ingredients while eliminating its
pungent odor and toxicity.
Key Points
• Uses garlic that has been fermented for a month to increase its efficacy and nutrient levels while eliminating the garlic's strong odor and natural toxicity.
• Contains oyster extract to promote men's health
• Rich in Vitamin B1 and iron
What are the benefits of garlic?
The health benefits of garlic are no secret. Time magazine listed garlic as the #1 health food item among 10 functional food products, and UK's Independent News featured an article on 30 ways to live long and healthy, in which it encouraged readers to "eat garlic daily."
What are the advantages of black garlic?
Black garlic shares many of the same amazing
health benefits as raw garlic, but black garlic
has a higher concentration of antioxidants.
In addition, black garlic has a distinct taste
and aroma that is not as strong or offensive as
that of raw garlic.
What makes Umeken Black Garlic Extract Balls special?
To create Umeken Black Garlic Extract Balls, fresh garlic cultivated from Japan's Aomori region is carefully selected and put through a special month-long fermentation process. The black garlic is developed to maturity under strictly-controlled temperature and humidity levels to ensure its quality and potency.
Umeken uses its advanced technology to then extract the black garlic into a convenient ball form, while also adding oyster extract to make it an even more powerful health supplement.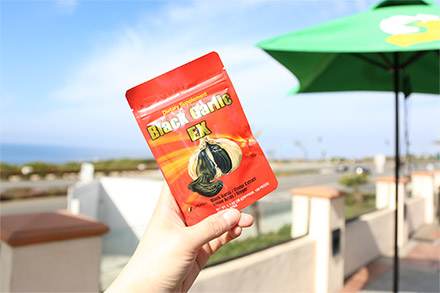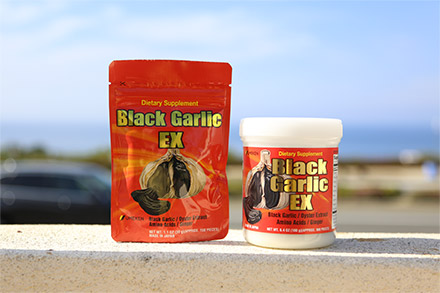 empty link






5

Ja*****
Product: Fermented Black Garlic EX / 3 mth supply (900 balls)
Help to digestion, blood circulation and immunity 02/27/2018





5

Ji*****
Product: Fermented Black Garlic EX (150 balls)
I sent it to my father-in-law in Korea this Father`s Day as a gift and he loved it!!
I even praised him for doing even better because it was a promotion!
Please eat and stay healthy, I even promised to send you again ~♡ 07/02/2016 19:15





3

Pa*****
Product: Fermented Black Garlic EX (150 balls)
I prefer the old version of Black Garlic as it is just purely garlic instead of having other ingredients, which my system can not tolerate such as oyster extract. Please have the pure black garlic balls available again. 02/11/2016 20:23





5

Product: Fermented Black Garlic EX (150 balls)
As if there was no business to stop the passage of time, the so-called menopause symptoms came to me as my body was tired, lethargic, and my stamina was low. Not only the body, but the mind as well. At that time, my wife introduced Umeken fermented black garlic, and immediately after taking it, my body gained strength and refreshed energy, which saved my self-esteem. I know garlic is good, but the smell is strong, it doesn`t go away easily, and I couldn`t eat it because it was a burden on my stomach. Unlike men`s products that only emphasize the functions of specific parts, Umeken Black Garlic seems to be a product that enhances the functions of the entire body. Fermented black garlic has more than 10 times higher antioxidant power than regular garlic, and is reported to be far superior in preventing cancer and heart disease, and improving cholesterol and arteriosclerosis. 05/25/2014 12:16

30g (about 150 Balls) / Take 10 – 15 balls per day
* These statements have not been evaluated by the Food and Drug Administration.
This product is not intended to diagnose, treat, cure or prevent any disease.